Yup, that's me in 2008. (Kodak Z740)
Right now I'm growing a "Magnum P.I." mustache for the kids. They loved it.
Update: I shaved it off because it felt like I had a caterpillar crawling around on my lip.
Professionally, I'm a writer, photographer, and musician. I graduated some time ago from the United States Air Force Academy with a Bachelor of Science degree in History and "Air Force". I graduated and became a Photo Interpreter, and stayed in the Air Force for about 8 more years working in the career field of Intelligence. Ultimately, I decided that I wanted to move in a different direction. Therefore, I resigned and became a civillian again. Afterwards, I worked in the publishing industry, then began writing after working at a school corporation for a year in the tech department. Since then, I've also been trained as a music producer/audio engineer.
I spend most of my time writing, preparing to write, taking, and processing photos. I want to add a lot more recording into the mix.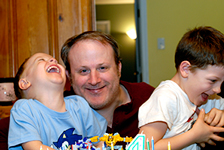 With two of my kids
in 2011. (Nikon D200)
Personally, I'm married and a dad. We have four kids. I love music, rock and roll, reggae - all sorts of music really. I play the guitar and bass. I work with wood. mostly turning vases and bowls on a lathe, I like football, all things BBC America (Doctor Who, Top Gear (UK), etc.), am a handyman, and more. I just discovered JessieJ. She was on Graham Norton and rocked the place. Loved her voice and performance.
I have devoted this year to getting back into shape. To that end, I've begun boxing in the basement with a heavy bag (100lbs). It's the most fun I've ever had exercising! I built a 12-foot beam out of three 2x4s. I bolted them together and have hung the bag from a secure eye-hook while I knock the crap out of it (it hangs down from a secure eye-hook). That way, it doesn't shake the house apart - the beam is not tied into the house. It lays across the foundation and a steel I-beam in-between two joists. It flexes and shakes a little, but I designed and built is so there is no way I can fall out. The kids love it too. It's a great way to get them to burn some energy off! I've also added other types of exercises into the mix, like "Perfect Pushups".
Here's the bio I put in my latest book.
Robert Correll is an author, photographer, and musician with a lifetime of film and digital photography experience. His latest titles include Canon 60D For Dummies, Digital SLR Photography All-in-One For Dummies, High Dynamic Range Photography For Dummies, High Dynamic Range Photography Photo Workshop, and Photo Retouching and Restoration Using Corel PaintShop Photo Pro, Second Edition.
Robert also wrote Your Pro Tools Studio and has been published in the Official Corel PaintShop Pro Photo Magazine, Music Tech Magazine, and Macworld magazine. He has authored creative video tutorials for Corel Corporation and the Virtual Training Company on titles ranging from HDR to several versions of Corel PaintShop Photo Pro, Adobe Photoshop Elements, Sony Acid Pro, and Cakewalk Sonar.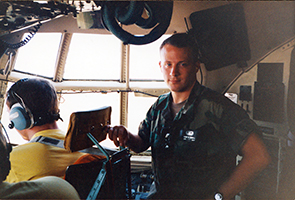 In a C-130 over Somalia in 1993.
(Ye olde film camera)
Robert is an expert in photo editing and management, raw processing, HDR, graphics applications, and music production software. He also consults and provides professional writing services, performs software testing (Windows and Mac), retouches, and restores photos.
When not writing, Robert enjoys family life, playing the guitar, producing, and recording music. Robert graduated from the United States Air Force Academy.